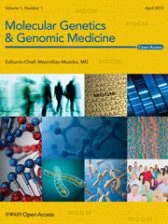 Today marks the launch of Molecular Genetics & Genomic Medicine (MGGM), a new Wiley Open Access journal. Under the leadership of Editor-in-Chief Dr. Maximilian Muenke, the journal will provide rapid dissemination of high-quality research in all areas of human, medical and molecular genetics.
Dr. Muenke, a renowned medical geneticist, trained in pediatrics in his native Germany and then pursued postdoctoral fellowship training in human and clinical genetics at Yale and the University of Pennsylvania. He is now based at a leading research organization in Bethesda, USA.
Dr. Muenke's group identified several genes important in craniofacial disorders including one of the most common, now termed Muenke syndrome. More recently, his lab has identified susceptibility genes for the most common childhood behavioral disorder, Attention-Deficit/Hyperactivity Disorder (ADHD), with further research focused on predicting severity, treatment, and long-term outcome.
Read the full press release online.