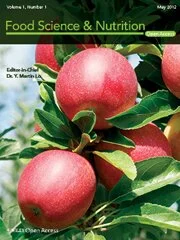 Food Science & Nutrition has been launched as part of the Wiley Open Access publishing program. The journal will provide authors with a new platform for the rapid dissemination of the latest research and will be published in collaboration with the Society of Chemical Industry, the Institute of Food Science & Technology and other prominent societies.
Food Science & Nutrition will publish the latest peer reviewed research from across all areas of food sciences, but will focus on the results of fundamental and applied research related to human food and nutrition. The journal will also publish reviews, research methods, invited editorial pieces and commentaries.
Food Science & Nutrition will be edited by Dr. Y. Martin Lo, Associate Professor of Food Bioprocess Engineering at the University of Maryland. Dr. Lo is also the Editor-in-Chief of theJournal of Food Processing and Preservation, a position he has held since 2007. An expert team of editorial board members will work alongside Dr. Lo, including Associate Editor, Dr. Berna Magnuson of the University of Toronto.
Food Science & Nutrition is the latest addition to Wiley's portfolio of food science journals and will benefit from relationships with titles including Molecular Nutrition & Food Researchwhich has an Impact factor of 4.3 and holds the top ISI rank for Food Science and Technology.
Dr. Lo commented that, "The science of food has evolved significantly over the last two decades and it has become clear that integrated research to interpret the interface between food science and nutrition is critical in attaining full comprehension of functional foods.  Additionally, many countries are still in dire need of appropriate technologies to add value to their abundant agriculture products/byproducts, while developed countries are seeking better practices to sustain agriculture.  All these efforts take time and need a proper outlet to usher continuous development and stimulate effective communications.  It is my vision for Food Science & Nutrition to be the one-stop hub for such."
For more information and to sign up for email content alerts please visit the journal's website.