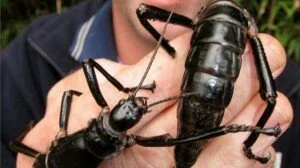 The survival story of this insect is epic: in 1918 a British supply ship ran aground on Lord Howe Island, a volcanic remnant located between Australia and New Zealand. Black rats debarked and ran rampant across the island, annihilating Dryococelus australis, a type of stick insect otherwise known as "tree lobsters."
The species was presumed extinct until 2001, when two scientists discovered the surviving tree lobsters living in a bush atop another volcanic remnant called Ball's Pyramid, about 13 miles away from Lord Howe Island.1 Scientists have no definite explanation for how they made it to Ball's Pyramid and survived, although they theorize that the insects could have floated over on vegetation or been carried over and dropped there by birds.
In 2003, four tree lobsters were transferred to the mainland to be protected and bred at the Melbourne Zoo. The zoo will breed its tenth generation this year. You can watch a tree lobster "hatch" in the following video, from the Zoos Victoria: Lord Howe Island Stick Insect hatching.
Resources from Wiley on Insects and Other Crawly Creatures
Biodiversity and Insect Pests: Key Issues for Sustainable Management

by Geoff M. Gurr, Stephen D. Wratten, William E. Snyder

Royal Entomological Society Book of British Insects

by Peter C. Barnard
1. Priddel, D. (2003). Rediscovery of the 'extinct' Lord Howe Island stick-insect (Dryococelus australis (Montrouzier)) (Phasmatodea) and recommendations for its conservation Biodiversity and Conservation, 12 (7), 1391-1403 DOI: 10.1023/A:1023625710011