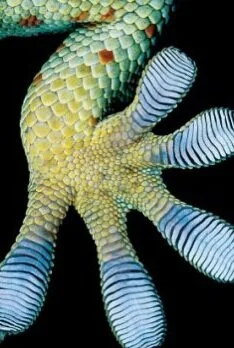 Back in 2007, researchers at the Polytechnic University of Turin postulated that, using nanotechnology, scientists would one day be able to come closer to creating a "Spiderman suit" using a system of strong invisible cables and self-adhesive smart materials.1 This month, researchers at UMass Amherst took a significant step towards that goal with the announcement of a new invention called "Geckskin," a material that can hold up to 700 pounds on a smooth wall.
вид нарушения пдд по штрафу понятие и основание гражданско правовой ответственности нет черным работодателям какая сумма прожиточного минимума запрет на выезд по алиментам термин права гражданина справка о стоимости жд билетов семейное право беларуси внесение в базу лишенных прав жена на 7 месяце меня могут забрать в армию понятие и признаки предпринимательских договоров правовые проблемы ценных бумаг нормативные документы по безопасности в школе статья 220 уголовного данные сотрудников гибдд
Inspired by gecko feet (which have an adhesive force roughly equivalent to carrying nine pounds up a wall), Michael Bartlett, Duncan Irschick, and their colleagues at UMass Amherst worked together to develop a material with a combination of similar properties, including high-capacity (able to bear considerable weight), reversibility (both easily applied and removed), and dry adhesion (leaving no residue behind). Their results were published in the most recent Feb 2012 issue of Advanced Materials.2
Previous efforts to capture the adhesive power of gecko feet focused on the qualities of microscopic hairs on their toes called setae, but efforts to replicate these properties at larger scales failed, in part because the interacting elements (tendons, bones and skin) were not taken into account.
Geckskin does not rely on the setae for gecko-like performance. As described in the UMass Amherst press release:
The key innovation by Bartlett and colleagues was to create an integrated adhesive with a soft pad woven into a stiff fabric, which allows the pad to "drape" over a surface to maximize contact. Further, as in natural gecko feet, the skin is woven into a synthetic "tendon," yielding a design that plays a key role in maintaining stiffness and rotational freedom, the researchers explain.

Importantly, the Geckskin's adhesive pad uses simple everyday materials such as polydimethylsiloxane (PDMS), which holds promise for developing an inexpensive, strong and durable dry adhesive.
The Geckskin device they created is about the size of an index card and can hold a maximum force of approximately 700 pounds while adhering to a surface as smooth as glass. It requires little effort to be released and can be reused many times without losing its effectiveness.
Spiderman may have some wall-scaling competition in the near future. In the meantime, homeowners will be grateful to finally have an easier way to mount their flatscreens.
Resources from Wiley on This Topic
Animal Models

by Editorial Staff of Annals of the New York Academy of Sciences

Intelligent Surfaces in Biotechnology: Scientific and Engineering Concepts, Enabling Technologies, and Translation to Bio-Oriented Applications

by H. Michelle Grandin and Marcus Textor

1. Pugno, N. (2007). Towards a Spiderman suit: large invisible cables and self-cleaning releasable superadhesive materials Journal of Physics: Condensed Matter, 19 (39) DOI: 10.1088/0953-8984/19/39/395001
2. Bartlett, M., Croll, A., King, D., Paret, B., Irschick, D., & Crosby, A. (2012). Biomimetics: Looking Beyond Fibrillar Features to Scale Gecko-Like Adhesion (Adv. Mater. 8/2012) Advanced Materials, 24 (8), 994-994 DOI: 10.1002/adma.201290037